Water is an essential element to our bodies. For many years, communities in rural Kenya have not had access to clean drinking water.
Ask any child what they would rather do than walk for water from the dirty stream; they will share their dreams of an education. Lack of access to clean water is the primary reason children drop out of school.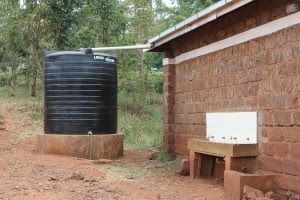 Clean water gives the children a chance to grow healthy, disease free, and achieve long term health. Water will feed crops planted, and start nutritional programs and agricultural training.
With each school we build or repair, we install a 10,000 liter water tank with rain collectors. To fill a tank is only $80.
Thank YOU for all of the water you have provided!